Do You Innovate the Human Centered Way?
To get the most out of their innovation dollar, the best teams incorporate innovation into what they do every day.  It is a part of their DNA; its how they operate, how they build solutions to big, complex problems.  But creating that culture of innovation doesn't happen overnight.  It takes intentional practice, a continuous application of learning to building what works in their organization.  It takes a Human Centered Innovation Learning Loop.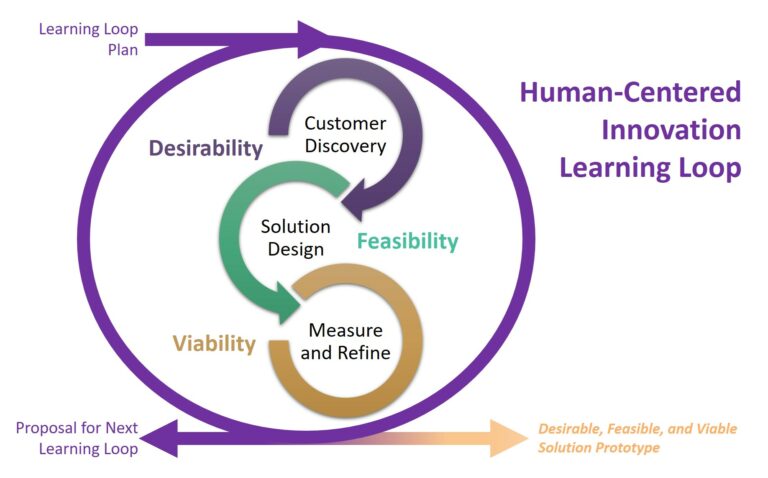 Knowing how to innovate the human centered way is an important skill, one that will set employers apart, a leading indicator for companies prepared to participate fully in the fourth industrial revolution.  As automation frees the workforce from routine tasks, the skill in highest demand won't be technical, the things that a machine can do better, but instead the human capabilities of empathy, collaboration and insights.  The organizations with deeper knowledge about their customers and the problems they face will be at the forefront of new ideas that change the world for the better.
At Inceodia we use a Learning Loop methodology derived from the Lean Startup toolkit.  The assertion of a Human Centered Innovation Learning Loop is that the desired result of a team's effort is not a solution but instead learning about the problem and exploring different ways to solve it.  And that exploration starts and ends with the customer you serve.
Our applied learning training programs teach teams how to work together to solve the toughest problems in their organization, in their industry, in society.  All of the programs start by teaching an approach to innovation, followed by coaching teams through applying that approach to solve a problem for their customers.  
The desired result of an Innovation Learning Loop is a better understanding of the problem and creative, simple, intuitive ways to solve the problem
Human-Centered Innovation Program
Human-centered design has the power to transform the culture of an organization and harness the energy, enthusiasm and insight of a workforce engaged in service to the "human" at the center. This program teaches teams human-centered design methodologies and how to apply them to solve the problems they see for their customers within their organizations.
Our Human-Centered Innovation Intensive Program starts with a bootcamp for teams to learn about how to apply design thinking to explore their ideas for innovation.  Then the team is coached through 10 weeks of exploration of their idea for desirability, feasibility and viability.  The program culminates in development of a proposal that summarizes their learning and outlines their plan for their next learning loop, or launch of a prototype to be tested with their internal or external customers. We teach them how to pitch this proposal to their leadership for further exploration or implementation of the solution they discovered.